Cranberry Kombucha Mocktail
What better way to get into the festive spirit than a Christmas mocktail!
Kombucha is a fermented drink made from tea, with a distinctive taste. Fermented foods, such as kombucha, may provide bacterial cultures to support gut health, acting as a healthier alternative to many high sugar carbonated drinks. Non-alcoholic drinks don't have to be boring, and the addition of cranberry and rosemary give this drink a festive twist to be enjoyed during the holiday season.
Servings

4
Ingredients
2 bottles Kombucha (original flavours work best with this recipe, but why not experiment with apple or ginger flavours)
160ml unsweetened cranberry juice
4 Rosemary sprigs
Some Ice
Instructions
1.
Fill 4 tumbler glasses with ice.
2.
Pour 40ml of cranberry juice into each glass, then fill to the top with the Kombucha.
3.
To serve, top with a sprig of rosemary, and enjoy!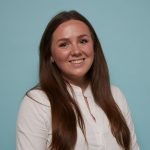 Abbie Alston is a Registered Nutritionist with the Association for Nutrition (AfN), a professional and regulatory board for qualified nutritionists. She completed her nutrition degree at Bournemouth University and has a BS in Nutrition Sciences. Abbie has worked in the medical nutrition industry for over seven years, working with products that will promote a healthy gut microbiome in children and in adults, and can be used in a range of medical conditions. She now works as a Nutrition Science Liaison at PrecisionBiotics Group, helping to connect consumers and nutrition professionals with the science of the gut microbiome and its impact on health.