Left over bejewelled chicken salad
What better way to use up leftover roast chicken than whipping up a spectacular salad to be enjoyed on the days that follow! This recipe works well with both left over chicken or turkey and makes for a colourful spread.
A great way to support gut health is by eating a diverse diet high in plant-based foods. This recipe has been created to provide a colourful array of vegetables, along with the addition of wild rice to provide a boost of fibre.
Servings

4-6
Ingredients
Left over chicken/turkey, shredded
300g Wild rice
1 Red onion
1 Butternut squash
50g Toasted flaked almonds
4 Spring onions, sliced
1/2 bag of spinach leaves, roughly chopped
1 red chicory head, thinly sliced
1 lemon
80g pomegranate seeds
Handful of fresh parsley, chopped
Instructions
1.
Pre-heat the oven to 180oC. Peel the butternut squash and scoop out and discard the seeds. Cut into small cubes, about 1cm in size and arrange on a baking tray. Slice the red onion into quarters and add to the baking tray. Top with olive oil, salt and pepper, and bake for about 30 minutes, or until lightly browned.
2.
Add the rice to a pan of boiling water. Add the lid, then bring down to a simmer, for about 30 minutes, until the rice is cooked through.
3.
In a large bowl, combine the shredded chicken, flaked almonds, spring onions, spinach, chicory, parsley and pomegranate seeds.
4.
To make the dressing, combine the juice and zest of 1 lemon with 1 tbsp of olive oil. Set aside.
5.
Once cooked, drain the rice and allow to cool for 5-10 minutes.
6.
Add the rice and roasted butternut squash and onion to the chicken bowl and mix to combine. Stir through the spinach leaves and sliced chicory, and top with the dressing to serve.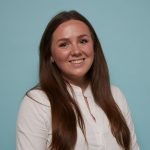 Abbie Alston is a Registered Nutritionist with the Association for Nutrition (AfN), a professional and regulatory board for qualified nutritionists. She completed her nutrition degree at Bournemouth University and has a BS in Nutrition Sciences. Abbie has worked in the medical nutrition industry for over seven years, working with products that will promote a healthy gut microbiome in children and in adults, and can be used in a range of medical conditions. She now works as a Nutrition Science Liaison at PrecisionBiotics Group, helping to connect consumers and nutrition professionals with the science of the gut microbiome and its impact on health.