Apple and Pear Cinnamon Crumble
A crumble is the perfect addition to any winters evening, and this recipe has a few subtle twists to support gut health.
While we know dietary fibre is good for us, but most of us do need eat enough fibre each day. Fibre is a type of carbohydrate that the body cannot break down, so passes undigested to the gut. Once it reaches the gut, fibre acts as 'food' for the friendly bacteria, helping them grow and multiply. Pears are an excellent source of fibre, and when the skin is kept on, provide even more.
Servings

3-4
Ingredients
250g Cooking Apples
200g Pears
2 tsp Ground Cinnamon
2 tsp Honey
50g Oats
40g Pecans
40g Shredded Coconut
1 tbsp Coconut Oil
Live Yoghurt to serve
Instructions
1.
Pre-heat the oven to 180oC.
2.
To make the filling, peel and core the apples, cutting into equal size pieces, about 2cm in size. For the pears, keep the skin on, slice into quarters, core and cut into 2-3cm pieces. Spread the fruit into a small baking dish and add 1 tsp cinnamon and 1 tbsp honey. Pour in 60ml of water mix together.
3.
For the crumble mix, melt the coconut oil and mix with 1 tbsp honey. Add this mixture to a bowl with the oats, roughly chopped pecans, shredded coconut and 1 tsp ground cinnamon and mix until combined.
4.
Cover the fruit with the crumble mix, but do not press down.
5.
Bake the crumble for 40-45 minutes, or until the topping is lightly brown.
6.
Serve the crumble warm with yoghurt and enjoy!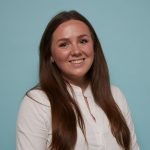 Abbie Alston is a Registered Nutritionist with the Association for Nutrition (AfN), a professional and regulatory board for qualified nutritionists. She completed her nutrition degree at Bournemouth University and has a BS in Nutrition Sciences. Abbie has worked in the medical nutrition industry for over seven years, working with products that will promote a healthy gut microbiome in children and in adults, and can be used in a range of medical conditions. She now works as a Nutrition Science Liaison at PrecisionBiotics Group, helping to connect consumers and nutrition professionals with the science of the gut microbiome and its impact on health.