Festive Roast Chicken
A roast chicken that is juicy on the inside and packed full of flavour is sure to be a winner on the dinner table at Christmas! Chicken is a lean source of protein and is a great source of many key nutrients. As well as being a festive favourite, brussels sprouts pack a mighty punch being a cruciferous vegetable, full of fibre and a source of prebiotics, supporting the beneficial bacteria in your gut.
Servings

4
Ingredients
1 Large Chicken
400g Brussels Sprouts
2 White Onions
1 Lemon
1/2 Bunch of Parsley
2 tbsp Fresh Thyme Leaves
Instructions
1.
Pre-heat the oven to 180oC.
2.
Finely chop the parsley and add to a small bowl with the thyme leaves, 2 tbsp olive oil, black pepper, and the juice from half the lemon.
3.
Place the whole chicken in a roasting tray. Rub the chicken with the olive oil mix, putting some under the skin for maximum flavour. Place the half of the lemon used for the juice inside the chicken. Slice the remaining half of lemon, and place on the baking tray around the chicken.
4.
Place the chicken in the oven, and roast for 30 minutes.
5.
Cut the onions into quarters and trim the brussels sprouts. Add to the roasting tray, and continue to roast for another 30 minutes, until the chicken is cooked through.
6.
Let the chicken rest for 10-15 minutes. Carve the chicken and serve with the brussels sprouts.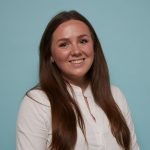 Abbie Alston is a Registered Nutritionist with the Association for Nutrition (AfN), a professional and regulatory board for qualified nutritionists. She completed her nutrition degree at Bournemouth University and has a BS in Nutrition Sciences. Abbie has worked in the medical nutrition industry for over seven years, working with products that will promote a healthy gut microbiome in children and in adults, and can be used in a range of medical conditions. She now works as a Nutrition Science Liaison at PrecisionBiotics Group, helping to connect consumers and nutrition professionals with the science of the gut microbiome and its impact on health.