Roasted Vegetables
Let's be honest, it wouldn't be a roast without roast potatoes! Potatoes contain resistant starch which is broken down in the gut, supporting gut health, so they are a great addition to the festive meal! It is possible however, to create delicious and crispy roast potatoes without the addition of lots of oil. This recipe uses a combination of potatoes, carrots, parsnips and red pepper to add variety and additional nutrients and uses fresh herbs and lemon to add freshness and an extra hit of flavour to the finished dish.
Servings

4
Ingredients
1kg Potatoes, Carrots, and Parsnips *1kg equal quantities of Potatoes, Carrots and Parsnips*
1 Red Pepper
Bunch of Parsley (or any other fresh herb, such as Coriander, Basil, Chives etc)
Juice of half a Lemon
1 tsp Dijon Mustard
Instructions
1.
Pre-heat the oven to 180oC.
2.
Peel the carrots, potatoes and parsnips, and chop into equal sized pieces/chunks
3.
Slide the red pepper into similar sized pieces, removing the seeds.
4.
Place all of the vegetables into a roasting tray with a small amount of olive oil, salt and pepper. Then place in the oven.
5.
Whilst the vegetables are roasting, make the dressing. Finely chop the parsley and add to a small bowl with the lemon juice, Dijon mustard and 1 tsp olive oil.
6.
Remove the roasted vegetables after about 45-50 minutes, when they're golden brown and crispy. Add to a serving bowl and pour over the dressing. Serve hot and garnish with extra fresh herbs if desired!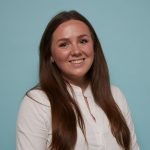 Abbie Alston is a Registered Nutritionist with the Association for Nutrition (AfN), a professional and regulatory board for qualified nutritionists. She completed her nutrition degree at Bournemouth University and has a BS in Nutrition Sciences. Abbie has worked in the medical nutrition industry for over seven years, working with products that will promote a healthy gut microbiome in children and in adults, and can be used in a range of medical conditions. She now works as a Nutrition Science Liaison at PrecisionBiotics Group, helping to connect consumers and nutrition professionals with the science of the gut microbiome and its impact on health.